Wait!
Watch Therefore with Dov Schwarz and John McTernan
Featured Offer from Dov Schwarz and John McTernan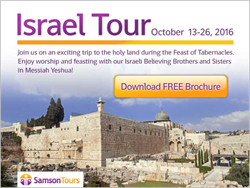 Blessing Israeli Believers Feast of Tabernacles with Dov Schwarz & John McTernan
"There are many Israel tours, but few are during the Feast of Tabernacles as Israel is more crowded at that time—do you know why? It is the BEST and most CELEBRATORY time of the year to be in Israel! So, this pilgrimage includes so many things you would not experience on many tours to Israel and our itinerary also includes special times of worship and feasting with our Israeli Believing Brothers and Sisters in Messiah Yeshua!" - Dov Schwarz

This tour includes the Jerusalem March and the Ein Gedi Desert Celebration. 10 Days and 9 nights on Land.