June 21, 2017: Find out how listening to radio dramas in the dark led to a career for Odyssey's newest writer.
The Official Adventures in Odyssey Podcast with Focus on the Family
Featured Offer from Focus on the Family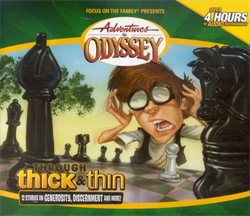 Adventures in Odyssey® #30: Through Thick and Thin
Eugene Meltsner, Odyssey's reigning chess champion, keeps getting beat by the most unlikely contender - and it's driving him crazy! Meanwhile, Mandy takes an Imagination Station adventure to see what it takes to change history, and an impending tornado puts a whole new spin on how people see the Rathbones. Don't miss these stories of truth, discernment and more!