June 21, 2017: Find out how listening to radio dramas in the dark led to a career for Odyssey's newest writer.
The Official Adventures in Odyssey Podcast with Focus on the Family
Featured Offer from Focus on the Family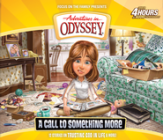 Adventures in Odyssey ® #57: A Call to Something More
After a series of surprises, the folks in Odyssey must look at their lives and see where God is leading them. Connie goes through a difficult experience and has to figure out how to turn tragedy into triumph, while three generations of the Parker family journey in the Imagination Station to witness the story of the last judge of Israel, leading Camilla to consider what God might be saying to her. It's a life changing time in Odyssey as our friends at Whit's End learn lessons in the midst of excitement and fun. 4 CDs.