June 21, 2017: Find out how listening to radio dramas in the dark led to a career for Odyssey's newest writer.
The Official Adventures in Odyssey Podcast with Focus on the Family
Featured Offer from Focus on the Family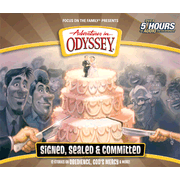 Adventures in Odyssey Album #29: Signed, Sealed, and Committed
They're starry-eyed. They're headed for the altar. Only one thing - who are "they"? Eugene and Katrina? Jack and Joanne? Whit and - Whit??! Join the fun as a handful of local kids threaten to go on a "chore strike," city slicker Nick takes up residence with Odyssey's newest family, the Mulligans, and a painting with a past teaches a valuable lesson about forgiveness.