July 19, 2017: Get "Swept Away" with writer/director Nathan Hoobler and sound designer Jonathan Crowe as they dive deep into this unique Club adventure.
The Official Adventures in Odyssey Podcast with Focus on the Family
Featured Offer from Focus on the Family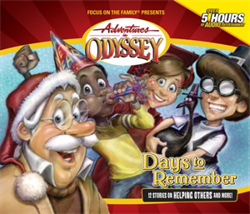 Adventures in Odyssey ® #31: Days To Remember
St. Patrick's Day, Valentine's Day, Christmas, Thanksgiving and Graduation are all Days To Remember in this Adventures in Odyssey audio album! Look back in time - and into the future - to experience holiday havoc and hilarious happenings with your favorite characters...like Eugene at this wedding shower, Connie at her graduation, and George Barclay's life-changing experience. Each exciting episode underlines timeless truths and instills important values such as thankfulness, God's providence, faith and commitment.