Matthew, Part 125
Changed By The Word with Dr. J. Bruce Sofia
Featured Offer from Dr. J. Bruce Sofia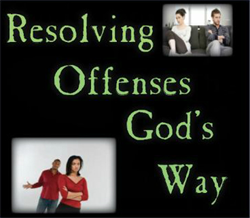 Resolving Offenses God's Way
We all have offenses. There's no way we can avoid them. They are a part of everyone's life. Some offenses are small and can be overlooked. But some are insurmountable. These hurts can last anywhere from a day to a lifetime!
In this message, Resolving Offenses God's Way, Bruce Sofia provides the believer with God's "resolve" to any offenses that we may encounter in our lives. You can live in true freedom and not the captivity that holding on to an offense can cause.
For a donation of any amount, we will send you a copy of the sermon, Resolving Offenses God's Way. Contact us today!