Weekend Edition 62
Basic Gospel with Bob Christopher, Bob Davis and Richard Peifer
Featured Offer from Bob Christopher, Bob Davis and Richard Peifer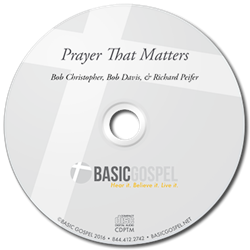 Experience God's perfect peace through prayer!
Anxiety has become an epidemic in our culture. But God wants to free you from anxiety to experience His perfect peace through prayer.
Our new CD, 'Prayer that Matters' shows you how you can break free from worry and anxiety and experience the perfect peace Jesus offers.
This encouraging resource is our gift to thank you for your donation to help more people hear, believe, and live the good news of Jesus Christ. Request your copy when you give below.